Author: Sara Pennypacker
Illustrator: Jon Klassen
This book has been around for a while now (published by Harper Collins in September 2017) and, although I'd read lots of glowing reviews and recommendations, I wasn't quite prepared for just how much I would love it. You aren't supposed to judge a book by a cover but in this case, for me, the absolutely stunning cover is a wonderful window into the story that unfolds. The (as always) beautiful illustrations by Jon Klassen capture the character and emotion from Sara's words poignantly. Perfect for KS2 and older but particularly years 5 and 6 (aged 9 to 11).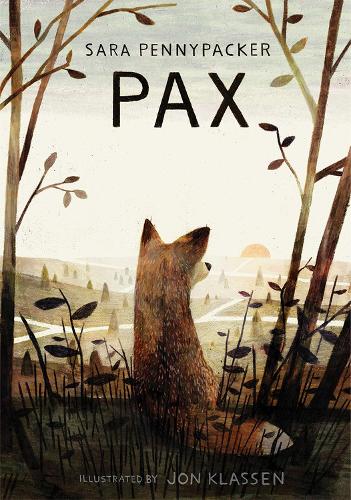 Pax is a fox who was rescued, as a very young cub, by 'his boy'. They have been inseparable ever since until one fateful day when they are parted – with devastating consequences. The ensuing story follows their separate journeys, with alternating chapters told from each individual perspective. Will they ever be reunited with each other?
Throughout the story different relationships are explored – between a boy and his fox, and each of them with different characters they encounter – and there are many emotive twists. War features strongly in the book, both literally and metaphorically. The story begins as war breaks out and battle intensifies as chapters pass. There is also a strong theme of 'internal war' for the boy and the fox – as they fight with their own emotions, instincts and decisions.
Sara tells a moving story of a boy 'coming of age' and the resilience, courgage and hope that are needed if we are to overcome adversity and fight for something (or someone) we truly believe in.